Hurtigere print
Photon Mono X 6K kan printe en typisk 12 cm figur på 1½ time
Stor byggeflade
Print op til 24,5 x 19,7 x 12,2 cm på en gang
Lystransmisison
Høj lystransmission
muliggør hurtig udformning af printene
Skarpe kanter
Med en forbedret kontrast ratio på 350:1 får du
skarpere og renere kanter, selv på små modeller
Tekniske specifikationer
Exposure screen: 9.25'' monochrome
Printing volume: 199.1 oz. / 1.6 gal. / 5.9 L
Light transmittance: 6%
Contrast ratio: 350:1
Light source: Parallel matrix (LED x 40)
Power density: 5,000 - 6,500 μw/cm² / 34,150 - 44,395 lux
Printing accuracy: 5,760 x 3,600 px (6K)
Horizontal resolution: 34 μm
Printing speed: Max 60mm/h
Control panel: 3.5'' TFT touch-control
Data input: USB-A 2.0 / LAN
Power supply: 120W
Screen area: 38.22 in² / 248.75 cm²
Machine dimensions: 18.7 x 11.4 x 10.6 in. / 47.5 x 29 x 27 cm (HWD)
Machine weight: 24.3 lb. / 11 kg
Kreativ frihed
Photon Mono X 6K kan printe op til 24.5 x 19.7 x 12.2 cm. 5,9L total bygge volumen, giver mere plads til din kreative frihed.
6K detaljer
Photon Mono X 6Ks skærm har en opløsning på 5760x3600px med over 20 mio. pixels. Derfor får du fantastiske detaljer!
Skarpe kanter
Skærmen har en kontrast ratio på 350:1, hvilket er 75% højere end andre mærkers 200:1. Det giver skarpe kanter og detaljer.
Skærmbeskyttelse
For at kunne beskytte skærmen bedre, har Photon Mono X 6K fået en ny type skærmbeskyttelse. Det er ridsefrit og kan udskiftes. Dette vil uden tvivl forlænge levetiden på skærmen.
Print hurtigere
Med en imponerende print hastighed på ≤ 8 cm/t. kan Photon Mono X 6K printe en typisk 12 cm figur på blot 1½ time, hvilket er ca. 4½ time mindre end Photon S, og ca. 1½ time mindre end konkurrenterne.
Kraftfuld lysmatrix
40 stærke LED lys er placeret i en matrix for at skabe en kraftfuld lyskilde, så Photon Mono X 6K kan give ≥90% lys uniformitet og ≤ 44,395 lux power til hvert lag. Dette øger printhastigheden markant.
Høj lys gennemtrængning
Anycubic Photon Mono X 6K er udstyret med en af industriens førende skærme med 6% lystransmission, hvilket er 200% højere end konkurrenternes 2%. Høj lystransmission gør det muligt at forme emnet hurtigere.
Universel kompatibilietet
Med 30%-100% lysregulering, kan Photon Mono X 6K bruge de fleste typer resin, og ikke kun 405nm UV resin. Derudover kan lysjusteringen forlænge levetiden på skærmen.
9,25" skærm
Anycubic Photon Mono X 6K er udstyret med en stor 9,25" skærm, som er 185% større end Photon S og 8% størrer end Photon Mono X.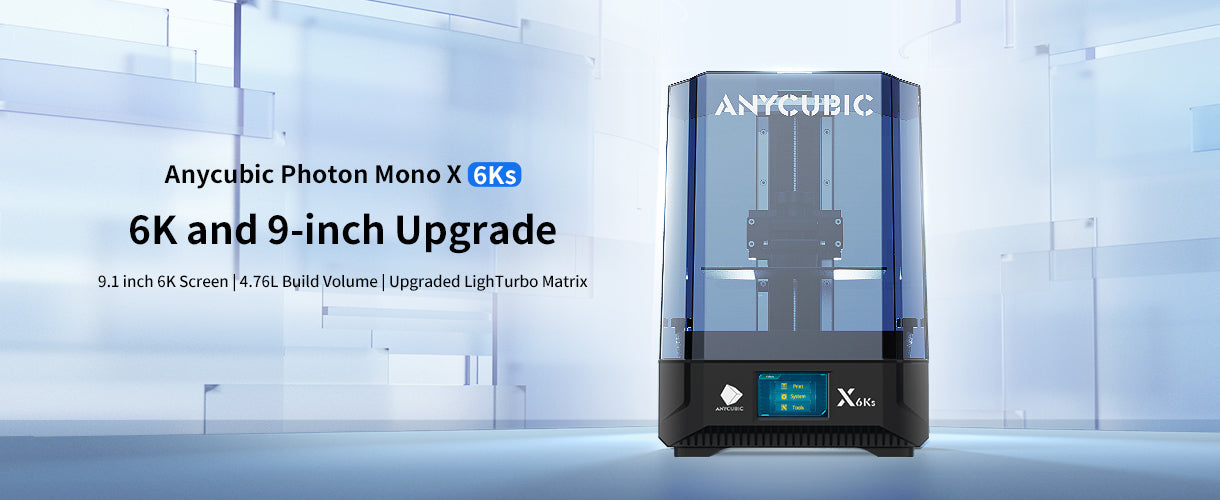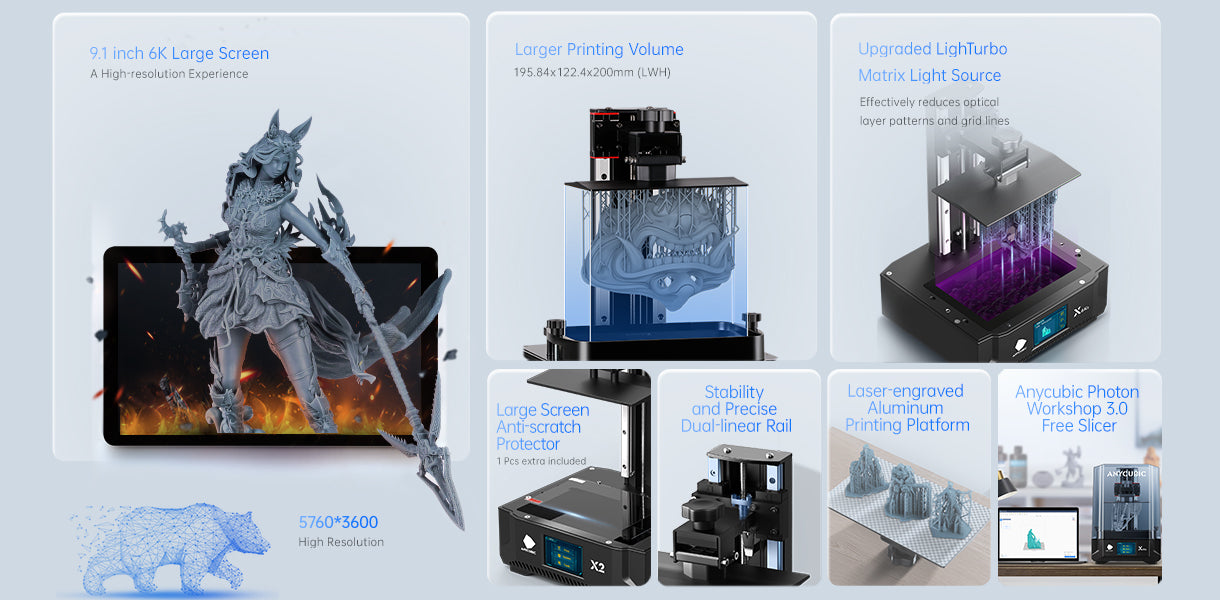 Anycubic Photon Mono X 6Ks


Main Features
9.1 inch 6K Screen - A High-resolution Experience
Adopts a 9.1 inch 6K high-definition monochrome exposure screen with a resolution of up to 5760*3600px, bringing sharper and delicate details presentation supported by a high contrast ratio of 380:1.
Comes with a high light transmittance anti-scratch film protector, effectively protecting the screen from wearing and scratches while ensuring printing accuracy. One free extra piece included for easy replacement.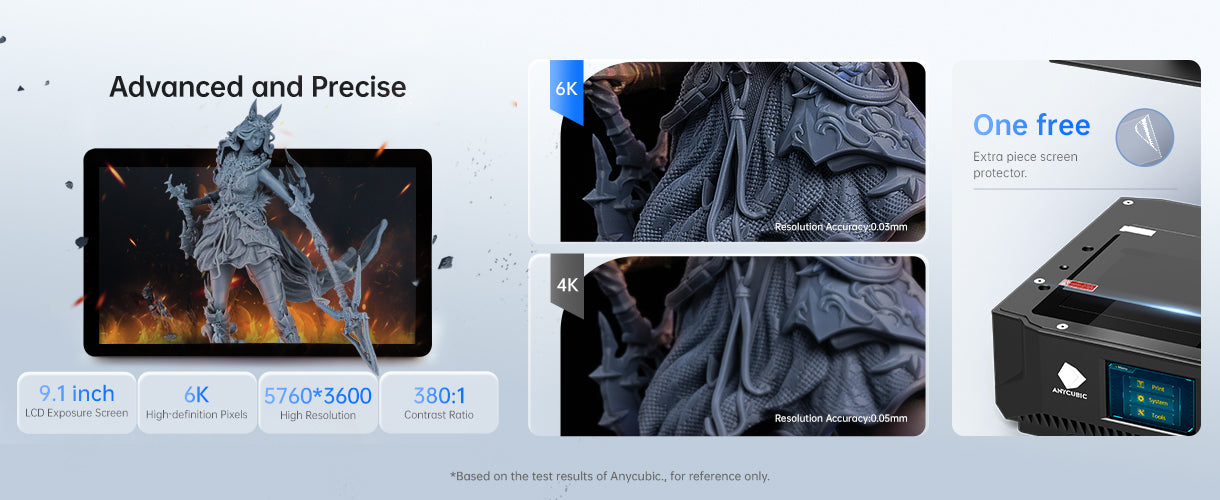 Large Printing Dimension
4.76L Printing Volume
A printing dimension of 195.84X122.4X200mm (LWH) brings you up to a maximum printing volume of 4.76L, ensuring more printings in one go.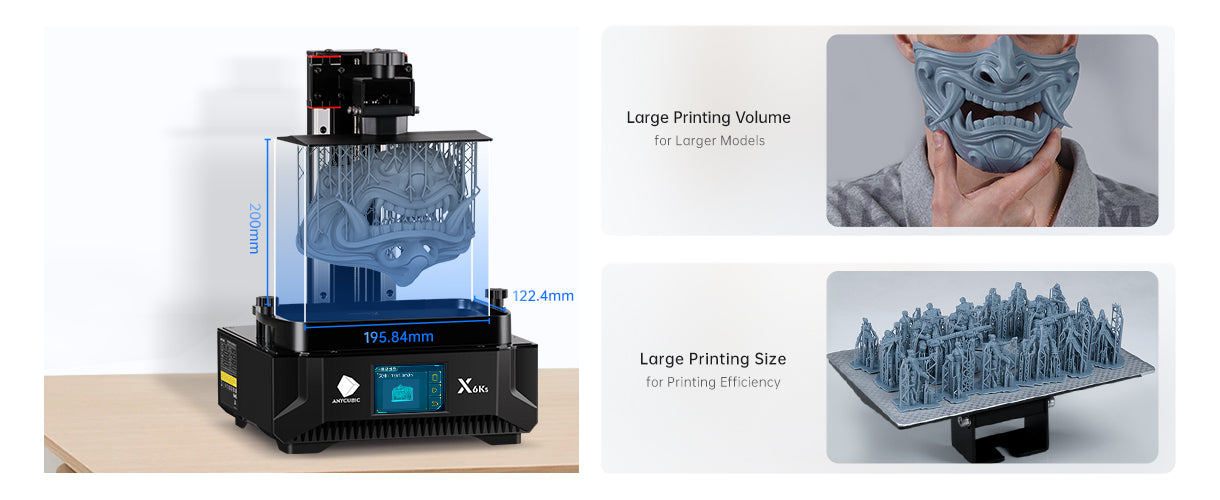 Sharp and Delicate Details
Upgraded Light Source
The upgraded Anycubic LightTurbo matrix light source and high-precision textured optical lens provide a stable and even parallel light source, effectively removing optical layers and grid lines and creating a smooth and delicate model surface. Printing speed reaches 15-60 mm/h, collect all your models even sooner.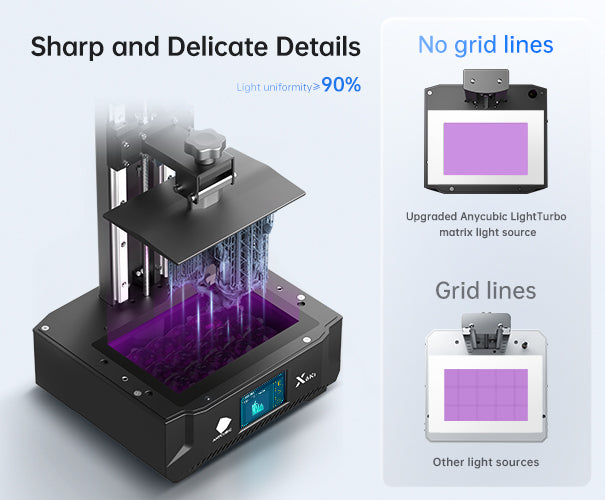 Stable Dual-linear Rail
The Stable Dual-linear Z-axis Rail and its highly wear-resistant POM anti-backlash nuts restrain the Z-axis' stability to the micron level, effectively eliminating printing layers and ensuring all printing details.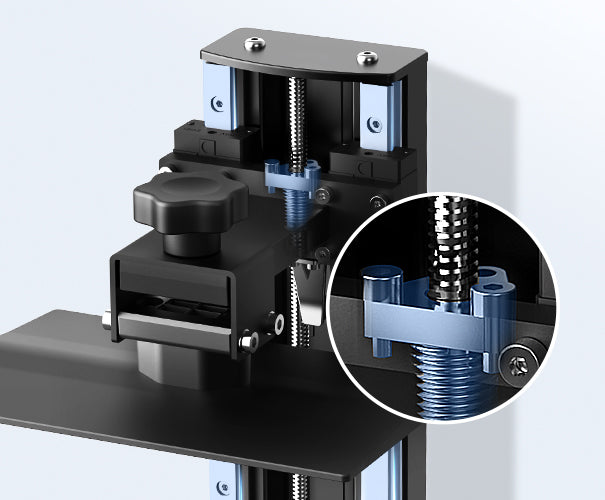 Laser-engraved Build Platform
The Laser-engraved technique that the printing platform adopts outstands sandblasting ones in platform flatness and adhesion, greatly reducing fall-offs and warping-ups and bringing you an even better success rate.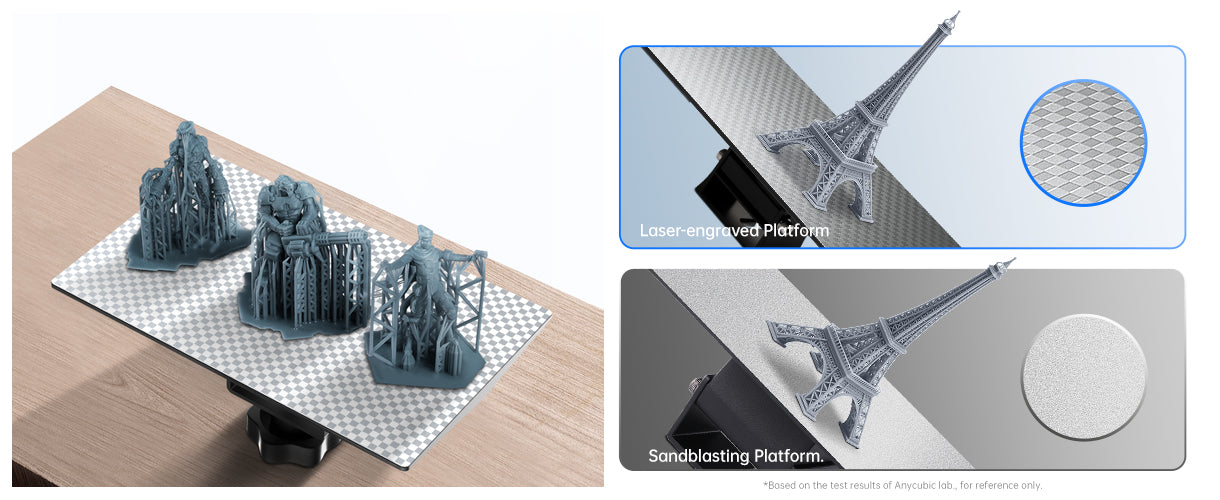 Upgraded Slicer 
Professional and Free
The upgraded free self-developed slicer Anycubic Photon Workshop 3.0 brings you an even better slicing experience in punching, supporting, shelling and layout arranging.
Simplified UI makes slicing easier. The new model repairing function also helps boost the printing success rate.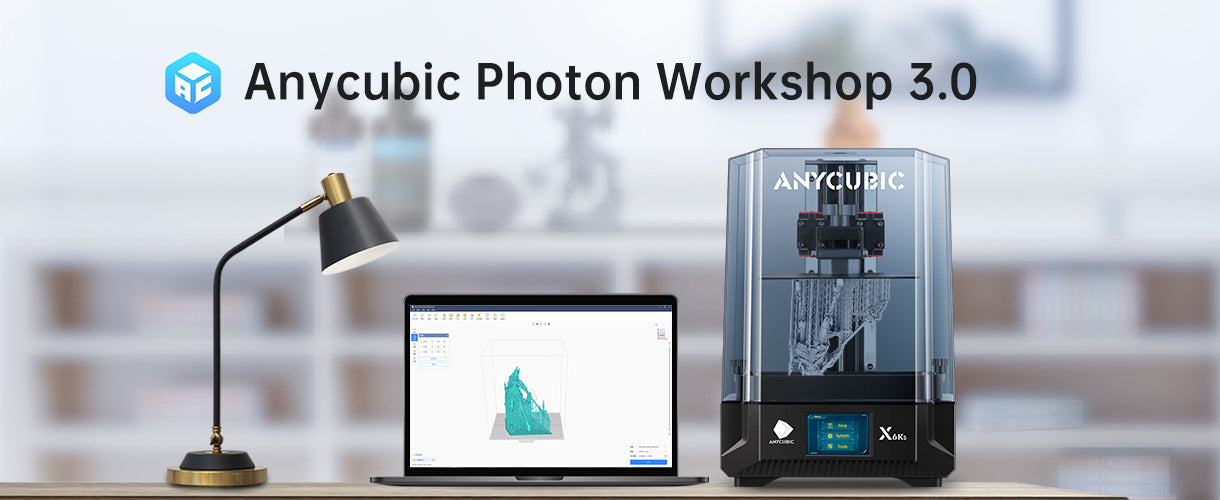 Anycubic Photon Mono X 6Ks


Models Display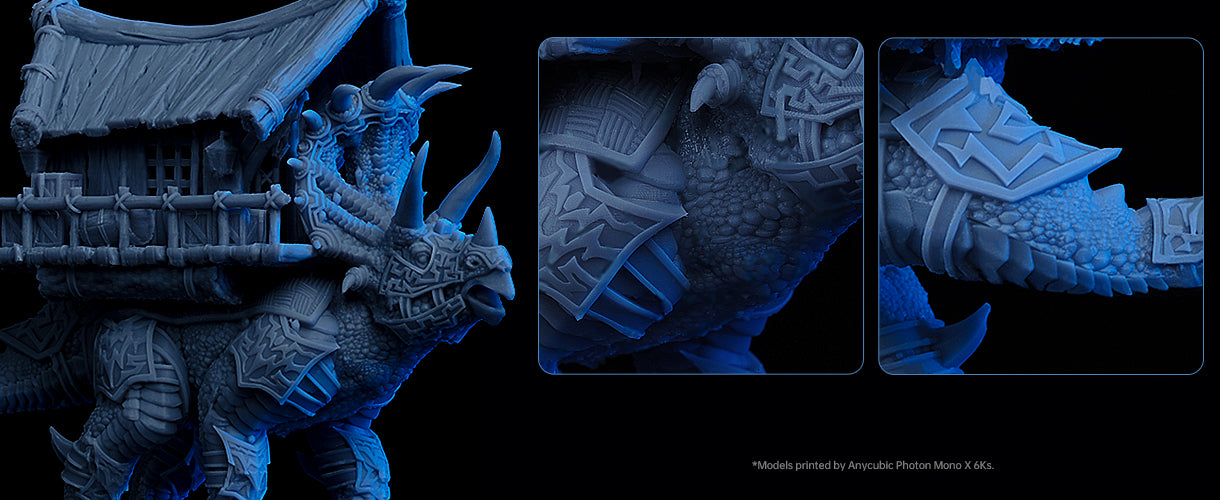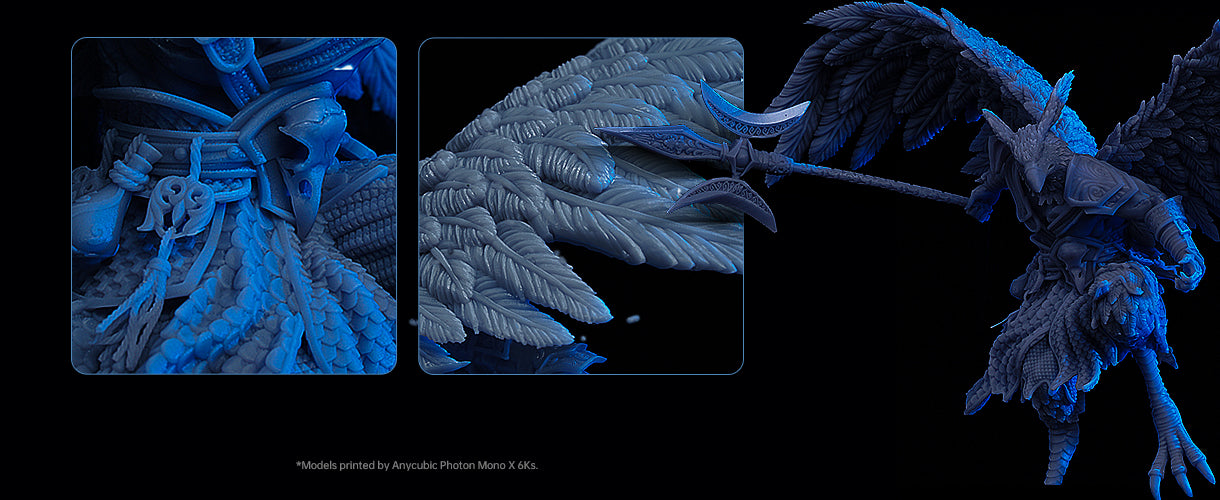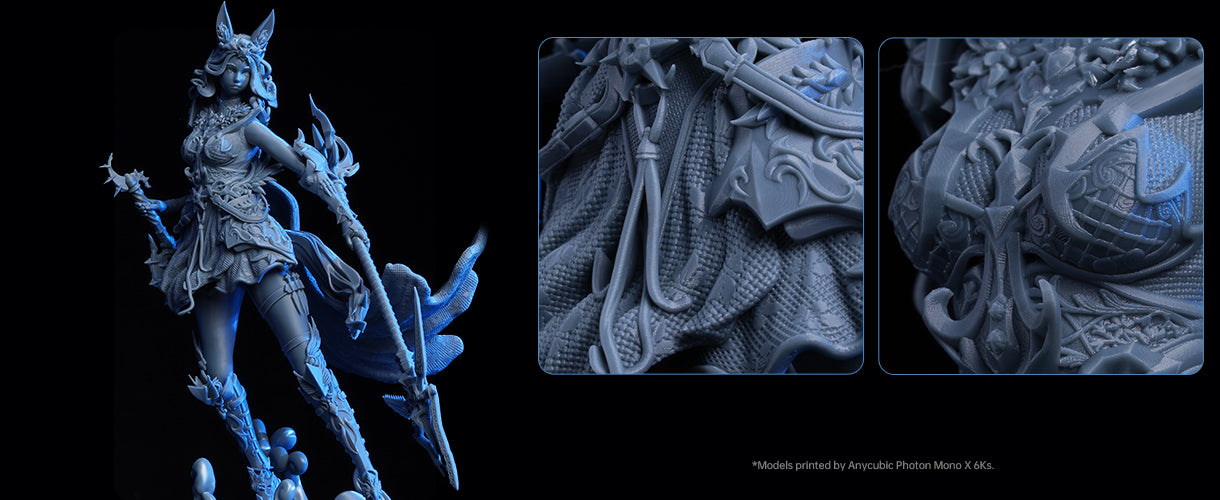 Anycubic Photon Mono X 6Ks


Video Introduction
Anycubic Photon Mono X 6Ks


Tech Specs

Machine Weight

8.5kg/18.7lb.

Machine Dimensions

417x290x260mm/
16.4x11.4x10.2 in.(HWD) 

Printing Volume

4.76L/161oz.

Printing Dimensions 

200x195.84x122.4mm/
7.8x7.7x4.8 in. (HWD)

Machine Leveling

4-point manual leveling

Printing Speed

15-60mm/h

Removable Cover

Effectively block UV radiation

Resin Tank

Unibody design with scale lines 

Zaxis

Dual-linear Z-axis, 10μm precision

Printing Platform 

Laser-engraved aluminum platform

Large Film Protector  

Replaceable anti-scratch film        

Exposure Screen

9.1" monochrome screen
6K (5,760 x 3,600 pixels) resolution
380:1 Contrast Ratio
6.5% light transmission
2,000 hours lifespan

Light Source

Upgraded Anycubic LighTurbo
Matrix light source

Control Panel 

3.5-inch TFT touch control   

Data Input 

USB Type-A 2.0   

Power Supply 

80W rated power  

Power Button  

On/off switch  
Anycubic Photon Mono X 6Ks


In The Box